This is a Sponsored post written by me on behalf of Buffalo Wild Wings for SocialSpark. All opinions are 100% mine.
I know football season just started but we are all about the baseball playoffs in our house because the Dodgers actually have a chance to make it to the World Series [woo hoo]!!  When games are on the weekends I always make some game food for the hubby and I.  A meat platter, some chips and dip, and I will soon be adding wings to that snack menu.   After hearing about Wing Tuesdays and Boneless Thursday I decided to test out just how yummy these wings actually are.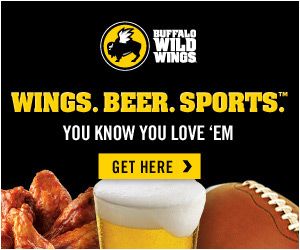 Thursday after I picked love bug up from school I called in my order.  At our Buffalo Wild Wings it is 60 cents per boneless wing every Thursday.  Sweet deal for lunch or dinner!  The choices of sauces and seaonings they have are ridiculous.  It was so hard to choose but I ended up sticking to what I know and ordered 8 Honey BBQ wings for only $5!  I chose to take it to go because my preggo craving self really wanted to eat it with some rice.  I know it sounds crazy but thanks to baby I can't get enough rice [seriously, rice with everything].  The wings were so yummy!  Tangy with this little kick in the sauce.  I can't wait to try the other sauces!  Think I'm going to have to try Parmesan Garlic next time.  
I love that I can take the wings to go in case we watch to stay in and watch the game, but I if the Dodgers can stay in this series we are going to have to watch the next game at Buffalo Wild Wings.  As soon as we walked in the little lady asked to sit down and I told her we would come back again.  And why not?  A fun place to watch the game and share some yummy food too!  Bottomless wings for me please. 
Once baseball season is officially over onto football we go.  Thanks to fantasy football the hubby watches every game he can and thanks to Buffalo Wild Wings I think we can both enjoy the game.  He gets to watch, I get to eat and we can enjoy some good quality time together as a family.  Be sure to Like Buffalo Wild Wings on Facebook and Follow Buffalo Wild Wings on Twitter.  And be sure not to miss out on Wing Tuesday and Boneless Thursday.  Those wings are definitely worth the trip!