Nothing brightens up my day more than having a yummy snack. I know my little one feels the same way. She gets
super
excited when I tell her she can have a snack and just like her mom she is the first one to pack a lunch bag of goodies when we are heading out. Now, packing a snack for school will be a little more fun with her cute new Apple Park lunch bag.
I love it!!

It was recently her turn to bring a snack to her preschool class and can you guess what I put in her little owl lunch bag?!
Snack Pack
®
chocolate pudding! She was pretty excited.
Snack Pack® is a simple, wholesome snack that puts fun back in the lunchbox
. Now the lids are even easier to open. Just look at that excitement! It's a little special treat for the day and I have to admit, my hubby and I like eating it too.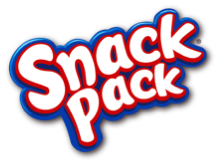 Snack Pack® pudding is of course completely nut free and sure to be a hit with her little preschool friends. It's made with real non fat milk and fortified with as much calcium as an 8 ounce glass of milk. We can snack guilt free too because Snack Pack® puddings contain no preservatives or high fructose corn syrup. The new cups also come with easy open lids making life a little easier for me. She can now open her own pudding cup instead of having to wait for me or watching me do it.

Snack Pack® pudding is a win win snack just like her little lunch bag. Apple Park has a ton of adorable lunch bags and so many different animals to choose from. Did you know it's made from recycled water bottles? Yes, I am one of those dorky mom's who appreciates things like that.

Thank goodness we had extra pudding because she couldn't wait for school to have her special snack. In our family we top our pudding with different toppings... daddy likes graham crackers or crushed cookies. Sometimes it's sprinkles, cool whip, peanuts, gummy worms, or marshmallows.

She loves Snack Pack chocolate pudding! So much so the next day she asked if she could have it for snack again after I had finished home schooling her and her friend M. How could I say no? They got to roll the dice and count how many marshmallows went into the cup.
Can't go wrong with chocolate pudding! Can you guess what her favorite toppings are?

This is a sponsored post written by me on behalf of
Snack Pack
for
IZEA
. All opinions are 100% mine.