There is nothing more refreshing than drinking a cool healthy fruit smoothie and our favorites are at Jamba Juice! The very first time I had a Jamba was with the hubby while we were still in high school back in Palmdale, Ca. They opened up one in our home town and it was our go to place. 12 years and two kids later we are still Jamba Juice lovers and grab one every time we are in DC. The funny thing is he still gets the same drink over a decade later. Can you guess what our favorite flavors are?
Even though they have come up with new flavors we still love the "classics". My hubby is a razzmatazz junkie. Our little love bug loves strawberry banana. I'm the wild card and pretty much go with how I feel for the day. There are so many new flavors to choose from its not easy just picking one… maybe Orange Reviver, or Garden Melody. One day if I am brave enough I will have to try the Carrot Cayenne.
On our most recent visit I chose the Acai Super-Antioxidant. It has Acai, blueberries, raspberry sherbet and an Antioxidant Boost [which I need with these crazy kids]. What a great boost for the day! I love Jamba because it is so stinkin freshing. It just brightens up my day. So yummy and tangy, I would definitely recommend this drink.
We choose Jamba Juice because it's healthy, paleo, and fresh pressed. Who doesn't love Fresh Squeezed Juices? Love bug loves the smoothies and it's the perfect treat for her because it has no preservatives and it is 100% juice! Healthy and yummy is always a win-win in my book. She always get so excited to go and I love just sitting there chatting about all the random things that pop into her little brain. It's the perfect mommy and me date and it still cracks me up to see the fascination of the blender.
It's also a really kid friendly place. I've never been to a Jamba Juice where the customer service was awful. They are always friendly and sometimes funny. I think he was nervous for his photo op [hehehe]. Whoops!
That's okay because back up arrived shortly and we all had a good laugh.
The best part about Jamba Juice is you can now get it on the go! Say what?! It's every busy mom's dream come true. Now when I am on a shopping date with this stud at our favorite red shop...
I can pick up a Jamba on the go, right there at the food court. A one stop shop. I love it and he was all over it wishing he knew how to drink out of a straw. Ha! Of course they don't have all the flavors but our strawberry Jamba tasted just like it does when we go to Jamba. So delicious!
And now I am going to share my delicious with you! Leave a comment telling me what flavor you would pick for a chance to win a Jamba Juice gift card. Is it Tropical Greens? You a Citrus Kick kind of a girl or maybe a Veggie Harvest. Find Your Closest Store and check out all the new drinks!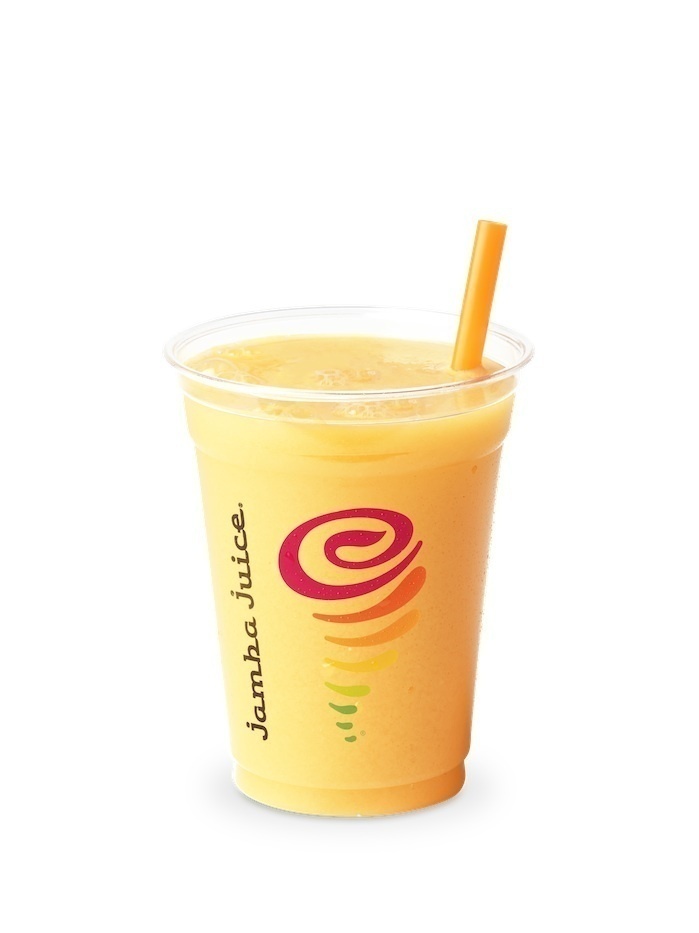 This is a sponsored post written by me on behalf of Jamba Juice for IZEA. All opinions are 100% mine.